Waarom en hoekom kry net sekere skool kinders fietse ? alle skoolkinders word nie hiervan voorsien nie, wat nie regverdig is teenoor ander skole se kinders nie, waar daar heelwat "taxi's of trokke / bakkies" ingespan word, soms oorlaai word.
Volgens die berigte is dit weens afstande wat skool toe gestap word deur leerders.
En kan die vraag gevra word, of mens stap of fietsry, wat is veiliger? Nie noodwendig fietsry nie.
Die projekte het glo in 2009 erens in Afrika afgeskop (Zambie)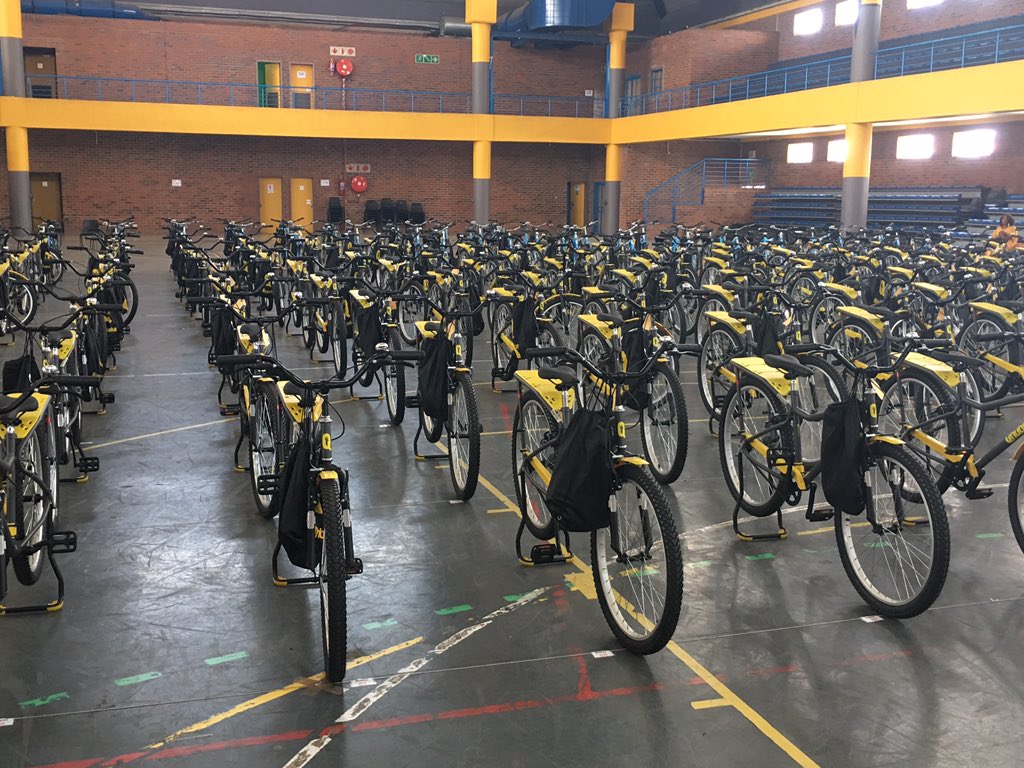 31 January 2019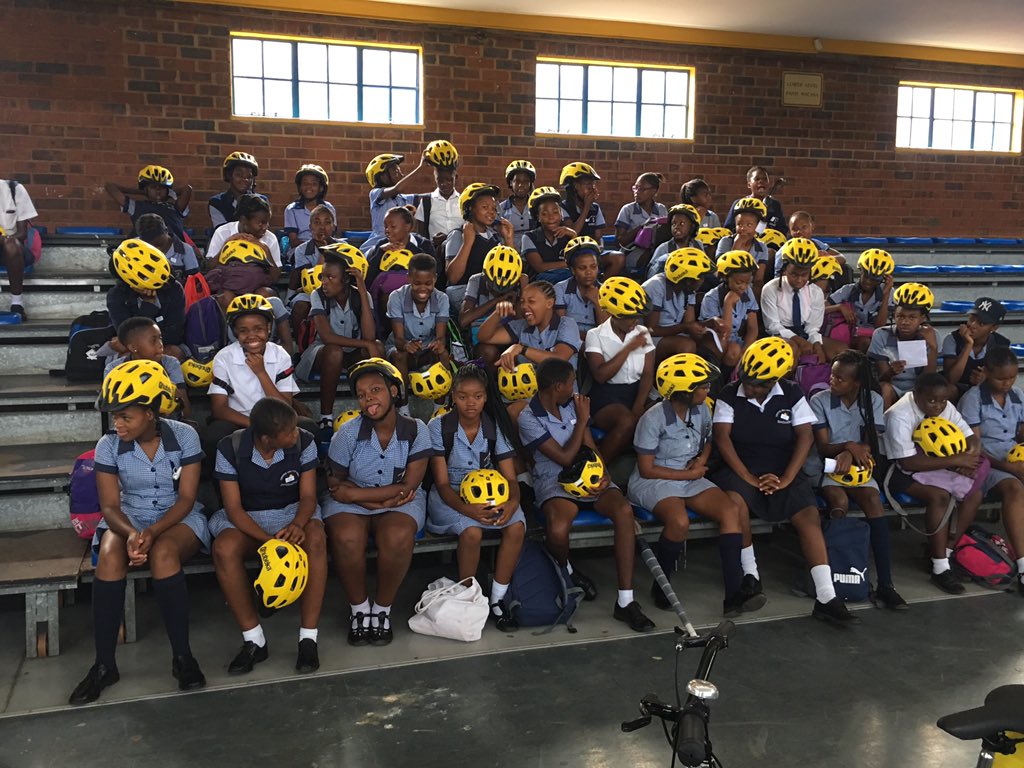 ** ** **
2015
Volkswagen through its partners, Qhubeka, World Vision South Africa and World Vision Switzerland handed over 600 bicycles to the learners of 11 rural schools in the Nkonkobe district in Eastern Cape as part of the Bicycle Education Empowerment Programme (BEEP). This brings the total number of Volkswagen's sponsored bicycles handed over to the rural schools in the past two months to 1 100, following 500 bicycles that were delivered to nine rural schools in Umzimkhulu, KwaZulu Natal in April 2015
Recent reports revealed that of the estimated 17-million children in school in South Africa, 11-million of them walk to school each day. Nearly 500 000 of these learners walk more than an hour or up to 6km one way to school. The high rate of school dropouts in rural communities especially of girls has been partly attributed to the walking distance endured by the learners. The girls' plight is also exacerbated by an extra burden of morning household chores which increases tardiness and exhaustion.
Volkswagen is one of the largest donors of the BEEP programme. The cost of one bicycle is R2 320, and cost covers amongst other things component manufacturing, delivery, helmet, training of the field mechanic as well as ADP's monitoring and evaluation programme.
** ** **
2016
Gauteng Departments of Roads and Transport and Education in partnership with the City of Ekurhuleni handed over about 1500 bicycles to learners travelling long distances to schools in some parts of Ekurhuleni.   The bicycle initiative is known as "Shova-Kalula" project, and seeks to assist leaners travel easy to school.
** ** **
2017
The KZN Department of Education will "break new ground" when they provide 975 learners from 14 local schools in the Uthukela District of KZN with bicycles on Tuesday.
Helmets, pumps and locks will all be a part of the mix when the MEC for education, Mthandeni Dlungwana, does the handover to the children who walk as far as 10 kilometres for their daily education.   The handover is scheduled for 9am at the Ingula High School in Ladysmith.
Children who had the longest walk to school was what the department considered when deciding bicycle recipients.
"We are breaking new ground in our quest to give children access to education," said Kwazi Mthethwa, spokesperson for MEC Dlungwana.
He said apart from walks being time consuming and energy sapping, the hazard of walking through hilly terrain where wild animals lurked, was life threatening for pupils from the this district.
Given the array of challenges pupils are likely to face on any given day it was not uncommon for some for pupils to choose the comfort and safety of home over an adventurous trek to school, which could span as far as 10 kilometres for some children.
As a result pupils have become disillusioned because of the challenges and dropped out of school, therefore, the department felt compelled to act, Mthethwa explained.
He said: "We've had complaints about the high levels of dropouts and absconding from school because pupils had to walk long distances.
"So we decided to act.
"We know the long walks usually left children feeling drained out and couldn't concentrate. Providing them with bicycles was the best option.
"We're changing lives with the handover. We don't see the pupils as children but future learners.
"We will deliver the bicycles in a bid to help vulnerable pupils in rural areas who are travelling long distances to school but do not qualify for scholar transport in terms of the minimum required kilometres.," Mthethwa said.
https://www.iol.co.za/sunday-tribune/news/975-kzn-learners-to-receive-free-bicycles-11168895
** ** **
2018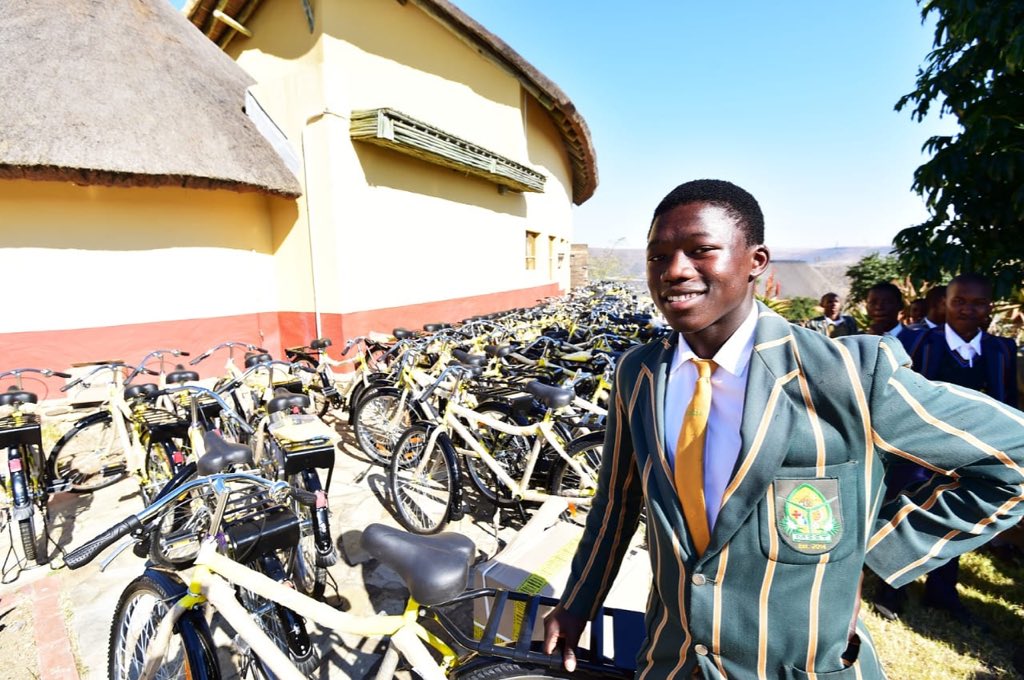 LIMPOPO – Qhubeka – 2018
Ever wondered what one of our Bicycle Handovers is like? This year in partnership with World Vision we have been handing over 250 bicycles to learners through our Bicycle Education Empowerment Programme (BEEP) every week during school terms.
Last Thursday, 24 July, 250 learners at four schools in the Enable region of Limpopo, South Africa received bicycles. This handover was funded through donations from World Bicycle Relief. Qhubeka is World Bicycle Relief's project in South Africa.
** ** **
30 January 2019
Gauteng MEC for Roads and Transport, Dr Ismail Vadi will on Thursday, 31 January 2019, donate 150 bicycles to Alra Park and Reiger Park Secondary school learners in City of Ekurhuleni.  The handing over of bicycles is part of Shovakalula Bicycle Project, a national initiative by Department of Transport, that seeks to provide ease of mobility to learners walking over three kilometers between home and school.
https://www.gov.za/speeches/mec-ismail-vadi-donates-bicycles-ekurhuleni-learners-31-jan%C2%A0-30-jan-2019-0000