Groot hidroliese masjinerie word gebruik om diep in die aarde te boor voordat 'n hoëdruk watermengsel op die rots gerig word om die gas binne te laat. Water, sand en chemikalieë word teen hoë druk in die rots ingespuit, waardeur die gas na die kop van die put kan vloei.   Hidrouliese breuk is 'n wel bevorderingstegniek waarin rots deur 'n drukvloeistof gebreek word. Die proses behels die hoëdruk-inspuiting van 'fracking fluid' in 'n boorgat om krake in die diepste formasies te skep waardeur natuurlike gas, petroleum en pekel vrylik sal vloei.
DRAKENSBERGE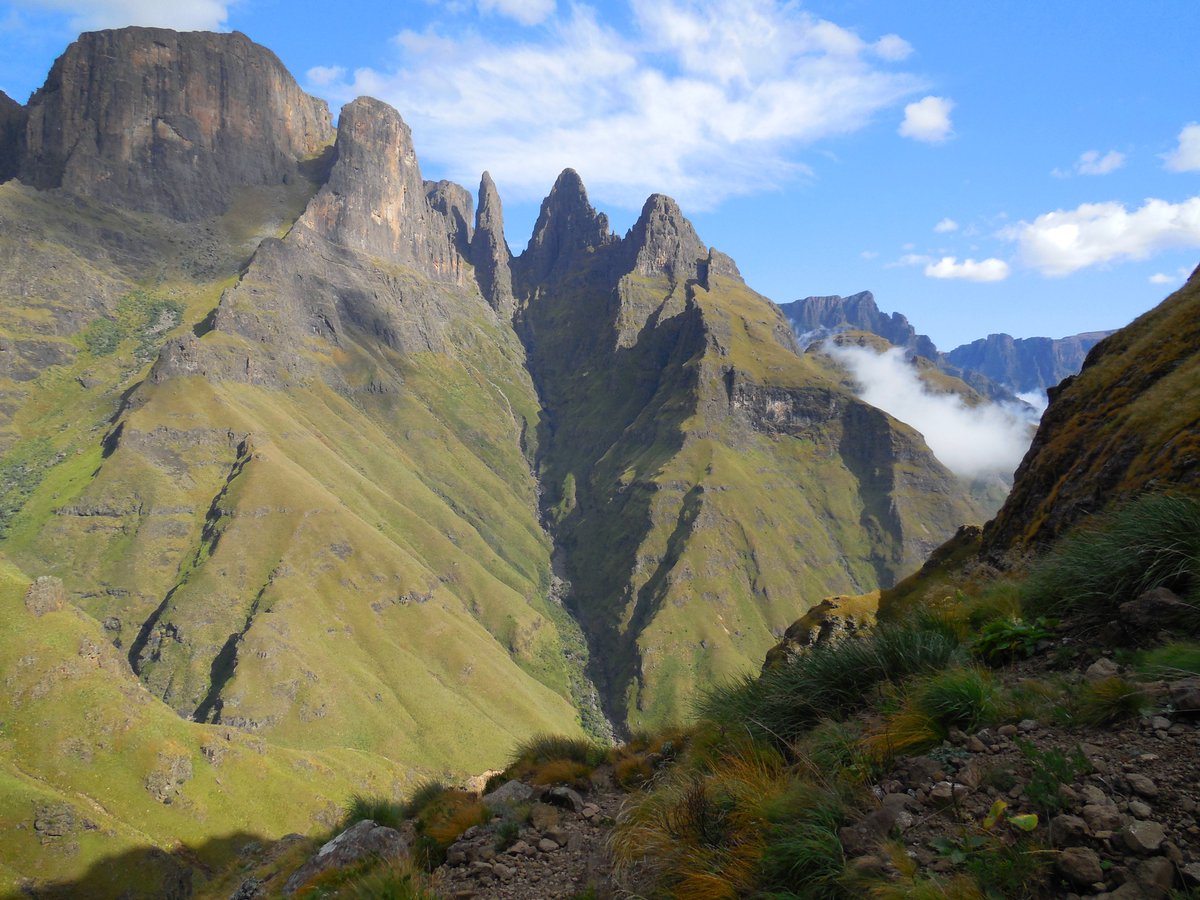 Fracking is a process of drilling down into the earth before a high-pressure water mixture is directed at the rock to release the gas inside. Water, sand and chemicals are injected into the rock at high pressure which allows the gas to flow out to the head of the well.  Hydraulic fracturing is a well stimulation technique in which rock is fractured by a pressurized liquid. The process involves the high-pressure injection of 'fracking fluid' into a wellbore to create cracks in the deep-rock formations through which natural gas, petroleum, and brine will flow more freely.
~
NADELE
Daar is heelwat nadele –  die hoeveelheid water wat gebruik word is baie hoog, en ons in Suid-Afrika het juis nie baie water nie;  besoedeling van water en omgewing asook ondergronds, vind plaas asook verskeie verskuiwings ondergronds – soos massiewe aardbewings het op heelwat plekke plaasgevind as gevolg van hidroliese brekings.    Suid-Afrika se grootste wateropvanggebied en verspreiding kom juis hiervandaan wat nou moontlik "gebreek" wil word.   Heelwat gedeeltes hier is reeds geruime tyd gelede as 'n wêreld erfgenis gebied verklaar.
As dit nie die Karoo is wat geplunder wil word nie, is dit oral waar daar "boere" is wat voedsel produseer en water het oral 'n impak op eksplorasie.
WATER EN BEHUISING – Min mynmaatskappye maak vooraf voorsiening vir ekstra watervoorsiening om hul minerale te bekom.  Heelwat van hierdie gebiede, waar daar mynregte goedgekeur word/is, is in sommige gevalle dus of staatsebiede, of spesiaal beskermde gebiede en indien dit plase of dorpies insluit, word heelwat burgers van hul wonings en besittings beroof.
Dis mos nou iets wat die huidige regering goed kan doen dat die vorige regering mense "verskuif" het.  Dis presies wat hier ook gebeur, nie net in hierdie geval nie, maar daar is ander gevalle reeds aangeteken waar letterlik duisende van hul huise gevat is om te myn.
~
SLR skrywe
RHINO OIL AND GAS EXPLORATION SOUTH AFRICA – APPLICATION FOR ENVIRONMENTAL AUTHORISATION WITH REGARDS TO AN EXPLORATION RIGHT
~
WHO IS Rhino Resources, Ltd.,
Is a technology driven independent oil and gas exploration and development company focused on Africa.  Rhino Resources is building a portfolio of both onshore and offshore oil & gas assets with a primary focus on West Africa, East Africa, and Southern Africa.  Rhino Resources, Ltd. is currently one of the largest holders of both onshore and offshore oil and gas rights in South Africa with over twenty five million acres granted by the Petroleum Agency of South Africa.
Management:
Bestuur – Management
AREAS
Daar is verskeie areas in Afrika – ook in Suid-Afrika – Various areas involved
Rhino Resources is actively pursuing oil & gas concessions in West, East and Southern Africa that contain under-explored plays in basins that have proved and productive oil and gas analogues with similar geology, or where the petroleum system is calibrated by existing well and seismic data.  The company is currently bidding and / or negotiating with seven countries in Africa to acquire both onshore and offshore oil & gas concessions that are conventional plays.  All of the blocks are sparsely explored with only limited well and seismic data available to constrain the petroleum system and prospectivity.  However, there is sufficient data on the geology of each block to demonstrate that multiple petroleum systems can be developed within each block. The current geology and the seismic and well database provides sufficient information to identify a large number of prospects and leads.  Some of the prospects and leads have the potential to target multiple stacked plays.  Other prospects and leads will test only single plays, but with the potential to test stacked-pay.
The Company has been granted the following areas in South Africa:
South Africa Offshore:
South Western Cape –
1.  Shallow Water Block, 12,070km2 or 2,982,558 Acres – ER 292
Rhino holds one offshore area ER 292, previously TCP 105, a shallow water block West of Capetown.  This area is 12,070km2 or 2,982,558 acres.
Rhino Oil And Gas Exploration South Africa (PTY) Ltd., a wholly owned subsidiary of Rhino Resources, Ltd., holds Technical Cooperation Permit No. 105 now ER 292, a shallow water block West of Cape Town.  This area forms part of a Mesozoic-Cenozoic Reservoir in the South African Coastal Province.  Using a geology-based assessment, the USGS estimated mean volumes of undiscovered, technically recoverable conventional oil and gas resources for the Mesozoic-Cenozoic Reservoirs AU in the South Africa Coastal Province at 2,129 million barrels of oil (MMBO), 35,964 billion cubic feet of gas (BCFG), and 1,115 million discovered is 340 MMBO, and the estimated mean size of the expected largest gas field is 2,937 BCFG.  For this assessment, a minimum undiscovered field size of 5 million barrels of oil equivalent (MMBOE) was used.
South Africa Onshore:
1.  Onshore Frankfort  – 6,561 km2 or 1,621,258 Acres – ER 294 (TCP No. 90)
2.  Onshore Petermaritzburg   – 8,,608 km2 or 2,127,083 Acres – ER 291 (TCP No. 91)
3.  Onshore Matatiele  – 1,247 km2 or 308,140 Acres – ER 295 (TCP No. 104)
4.  Onshore Kwa-Zulu Natal – 8,646 km2 or 2,136,473 Acres – ER 317 (TCP No. 108)
5.  Onshore Free State – 7,538 km2 or 1,862,680 Acres  – ER 318 (TCP No. 109)
Rhino Resources through its wholly owned subsidiary, Rhino Oil and Gas Exploration South Africa (PTY) Ltd., holds five onshore areas, TCP No. 90, TCP No. 91, TCP No. 104, TCP No. 108 and TCP No. 109  with The Petroleum Agency South Africa in the Karoo Basin of South Africa. These five areas are 10,132 km2 or 2,503,671 acres, 15,135 km2 or 3,739,960 acres, 1,247km2 or 308,140 acres, 32,737 km2 or 8,089,488 acres and 14,625 km2 or 3,613,916 acres respectively for a total of 18,255,157 acres.
Based on limited preliminary data extracted from a variety of geological studies, Advanced Resources International (ARI) believes that the Karoo Basin holds significant volumes of shale gas resources. They estimate the shales in the Karoo basin contains up to  1,834 Tcf of risked gas in-place, with risked recoverable gas resources of up to 485 Tcf.  Rhino's acreage also has the potential for wet gas and oil plays which were not included in this estimate.
The Company has been granted the following areas in Namibia:
Namibia Offshore:
1.  Block 2814A (PEL 76) – 1314 km2 or 324,696 acres
2.  Block 2214B (PEL 77) – 5696 km2 or 1,407,512 acres
3.  Block 2715B (PEL 84) – 4898 km2 or 1,149,765 acres
4.  Block 2914A (PEL 85) – 5386 km2 or 1,330,909 acres
~
Article of
Petroleum company and fracking : Drakensberg
An international petroleum exploration company has fired up a fresh application to explore for products in prime farmland in the central Drakensberg and Free State.
This follows a government decision to dismiss an appeal by farmers, environmentalists and rural dwellers against earlier controversial applications in the provinces last week.   But the firm is likely to face fierce legal opposition from farmers and environmentalists who are bracing for a fight both in and out of court.
Rhino Oil and Gas Exploration South Africa (Pty) Ltd announced this week that it had lodged an application for an exploration right with the Petroleum Agency of South Africa (Pasa). The application was received on October 11.    The application, which covers 6060 farms over 1 million hectares, could eventually result in environmentally harmful "fracking" to extract gas, environmentalists have warned, although the company will have to get further approvals for this if the exploration right is granted and the resources are discovered.
Fracking poses the potential risk of earth tremors and the contamination of underground and surface water.   Areas affected in the latest fracking application extend from Mooi River and Estcourt North to Winterton, Bergville and Van Reenen, to south of Memel in Free State.   The application also covers the Lesotho border, Phuthaditjhaba and Clarens to beyond Bethlehem and Lindley.
Rhino Oil and Gas Exploration South Africa said in its application documents that the exploration work programme was "aimed at indicating if there is an oil or gas resource in the area that would warrant further exploration".   The company said the proposed exploration activities included "data acquisition and processing through a comprehensive desktop study" and "a full tensor gradiometry gravity survey", which would be done from the air using survey aircraft.    "No seismic surveys, well drilling, pressure testing, hydraulic fracturing or water abstraction is proposed in the exploration work programme," the company said.
Matthew Hemming, African manager for SLR Consulting, the environmental assessment consultancy handling the scoping and environmental impact assessment (EIA) for the application, said the exploration right would only entitle the firm to explore using methods set out in an approved exploration work programme.   "Any further exploration work to evaluate an identified resource or the future production of oil or gas would require further approval in terms of the MPRDA (Mineral and Petroleum Resources Development Act) and Nema (National Environmental Management Act). Such approvals will be subject to the relevant legal requirements, which include further public consultation and environmental impact assessment," Hemming said.
Public consultation meetings will be held in Bergville, Estcourt, Memel, Clarence, Lindley and Harrismith from December 3 to 7.   Janse Rabie, AgriSA head of natural resources, said the farmers' organisation would oppose fracking "anywhere in South Africa".
He said AgriSA was preparing to lodge a review application in the North Gauteng High Court in Pretoria to set aside acting environmental affairs minister Derek Hanekom's dismissal of 39 appeals – from environmental groups like the World Wide Fund for Nature, groundWork, AgriSA, the Bakoena Traditional Council and the Amahlubi Traditional Council – against the granting of four exploration authorisations to Rhino Oil and Gas in September last year.
Hanekom issued his decision in support of the Department of Energy's earlier approval of the expropriation rights, which cover about 2.4 million hectares in the North West, Free State, KwaZulu-Natal and the Eastern Cape, on November 9.    Rabie said it was feared that the applications "may lead to large-scale shale gas developments in South Africa, including by means of hydraulic fracturing or 'fracking'."
"Agri SA appealed against the granting of environmental authorisation due to the prevailing uncertainty regarding the availability and possible pollution of water, as well as the air and soil pollution associated with oil and gas developments," Rabie said.   Rabie said farmers were already struggling for water in a water-scarce country and food security would be threatened if a water-thirsty oil and gas industry was launched.
Bobby Peek, director of groundWork, said by dismissing the appeals, Hanekom had opened the door for Rhino Oil and Gas to launch the latest application.   He said the organisation would object to the application and it would explore legal options to challenge the application.   "Hanekom has clearly got his head in the sand when everyone, including the International Energy Agency, a conservative group set up to protect the capitalists and big oil, is saying no more fossil fuel, no more release of CO² and Hanekom, who is supposed to be an environmental minister, has said yes," he said.   "Rhino now feels they can win – they clearly feel buoyed and that they have the wind behind them."
**
Application ER346 (grey area on the map) includes parts of the following protected areas: 
Golden Gate National Park – the application area also falls within the Park's buffer zone for natural areas and very close to the catchment protection zone, Sterkfontein Nature Reserve and Spioenkop Nature Reserve.
SLR/Rhino say in their BID document, mining, etc is not allowed by law in protected areas.
So what are they doing with this?   
The application area also goes right around the remainder of these reserves as well as abutting the north-eastern side of the Drakensberg/Maloti Transfrontier Park. These are all major water source areas/catchments. Golden Gate is also very close to the outfall from the Ash River of the Lesotho Highlands Project, where the water comes into South Africa. Sterkfontein Dam is part of the water scheme that takes water from the Thukela River in KZN to Gauteng. If this water gets polluted from possible exploration, fracking, etc, then there is no going back. Johannesburg is again water short because of the delay in implementing the second phase of the Lesotho Highlands Scheme.
~
AfroEnergy
EIA for an Exploration Right application for Petroleum and Natural Gas on various farms in a portion of the Free State and Mpumalanga Provinces (12/3/320 ER) – November 2016
This Executive Summary provides a comprehensive synopsis of the Scoping Report prepared as part of the Scoping and Environmental Impact Assessment (hereafter collectively referred to as "EIA") process being undertaken as part of the application by Afro Energy (Pty) Ltd (hereafter referred to as "Afro Energy") to apply for an Exploration Right (ER) to explore for "Petroleum and Natural Gas" on various farms in a portion of the Free State and Mpumalanga provinces (12/3/320 ER).
~~~
UNESCO – WORLD HERITAGE SITES – DRAKENSBERG-SA/LESOTHO
THE Maloti Drakensberg Route is the longest designated tourism route in southern Africa, embracing northern Lesotho and eastern Free State, the Lesotho eastern highlands and KwaZulu-Natal, west and central Lesotho, southern Lesotho and the Eastern Cape highlands.
Listed in 2000 as a World Heritage Site, the park qualifies in several distinct categories required for this status: its wealth of rock art (the largest and most concentrated group of paintings south of the Sahara), the cultural history of the once-resident San people found in this art form, its exceptional natural beauty, and its diversity of habitats that support a variety of endemic bird and floral species.  Area contains an estimated 600 rock-art sites and in excess of 35 000 individual images depicting animals and human beings, and the spiritual life of the long-gone San people. It contains almost all of the remaining subalpine and alpine vegetation in KwaZulu-Natal, and it has been identified as an important bird area, forming part of the Lesotho Highlands Endemic Bird Area.
World Heritage Site Drakensberg
Maloti Drakensberg Tranboundary World Heritage Site
The World Heritage Committee has decided to inscribe Lesotho's  Sehlabathebe National Park as an extension to the uKhahlamba Drakensberg Park  (in South Africa), which is now to be named Maloti Drakensberg Tranboundary World Heritage Site.  The 6,550 hectare addition to the existing site consists of a spectacularly beautiful watershed area that hosts flora and fauna of scientific importance. They include the Maloti Minnow, a critically endangered fish species only to be found in the Park. Other endangered species include the Cape Vulture (Gyps coprotheres) and the Bearded Vulture (Gyps barbatus). Sehlabathebe National Park's African Alpine tundra ecosystem with its 250 endemic  plant species significantly enhances the value of uKhahlamba Drakensberg Park. It also features important rock paintings made by the San people who have been living on the site for  4,000 years.
The Maloti Drakensberg Transboundary World Heritage Site is a transnational property spanning the border between the Kingdom of Lesotho and the Republic of South Africa. The property comprises Sehlabathebe National Park (6,500ha) in Lesotho and uKhahlamba Drakensberg Park (242,813 ha) in South Africa. Maloti Drakensberg Transboundary World Heritage Site is renowned for its spectacular natural landscape, importance as a haven for many threatened and endemic species, and for its wealth of rock paintings made by the San people over a period of 4000 years. The property covers an area of 249,313 ha making it the largest protected area complex along the Great Escarpment of southern Africa.
The Maloti Drakensberg range of mountains constitutes the principal water production area in Southern Africa. The areas along the international border between the two countries create a drainage divide on the escarpment that forms the watershed for two of southern Africa's largest drainage basins. The Thukela River from uKhahlamba Drakensberg Park flows eastwards into the Indian Ocean. The rivers of southern Maloti Drakensberg including SNP drain into the Senqu/Orange River which flows westwards into the Atlantic Ocean, and extension of the UDP WHS to include SNP will add special hydrologic qualities to the area. The Senqu/Orange River from Sehlabathebe National Park flows westwards into the Atlantic Ocean.
SAN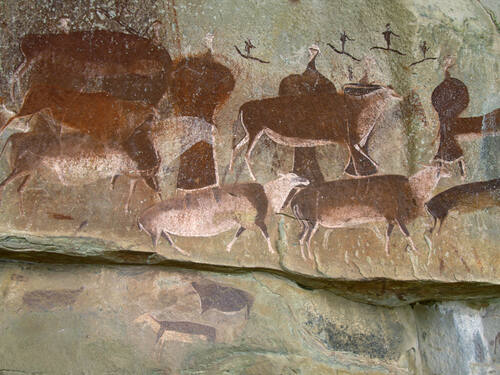 With its pristine steep-sided river valleys and rocky gorges, the property has numerous caves and rock shelters containing an estimated 665 rock art sites, and the number of individual images in those sites probably exceeds 35,000. The images depict animals and human beings, and represent the spiritual life of the San people, representing an exceptionally coherent tradition that embodies their beliefs and cosmology over several millennia. There are also paintings done during the nineteenth and twentieth centuries, attributable to Bantu speaking people.
Extending along most of KwaZulu-Natal's south-western border with Lesotho, the property provides a vital refuge for more than 250 endemic plant species and their associated fauna. It also holds almost all of the remaining subalpine and alpine vegetation in KwaZulu-Natal, including extensive high altitude wetlands above 2,750m and is a RAMSAR site. The Park has been identified as an Important Bird Area, and forms a critical part of the Lesotho Highlands Endemic Bird Area.
Criterion (i): The rock art of the Maloti-Drakensberg Park is the largest and most concentrated group of rock paintings in Africa south of the Sahara and is outstanding both in quality and diversity of subject.
Criterion (iii): The San people lived in the mountainous Maloti-Drakensberg area for more than four millennia, leaving behind them a corpus of outstanding rock art, providing a unique testimony which throws much light on their way of life and their beliefs.
Criterion (vii): The site has exceptional natural beauty with soaring basaltic buttresses, incisive dramatic cutbacks and golden sandstone ramparts. Rolling high altitude grasslands, the pristine steep-sided river valleys and rocky gorges also contribute to the beauty of the site.
Criterion (x): The property contains significant natural habitats for in situ conservation of biological diversity. It has outstanding species richness, particularly of plants. It is recognised as a Global Centre of Plant Diversity and endemism, and occurs within its own floristic region – the Drakensberg Alpine Region of South Africa.
It is also within a globally important endemic bird area and is notable for the occurrence of a number of globally threatened species, such as the Yellow-breasted Pipit. The diversity of habitats is outstanding, ranging across alpine plateaux, steep rocky slopes and river valleys. These habitats protect a high level of endemic and threatened species.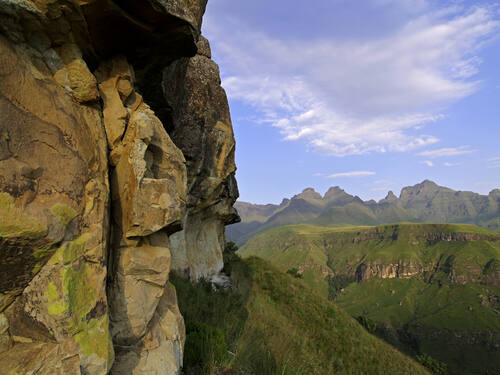 The uKhahlamba Drakensberg Park, composed of 12 protected areas established between 1903 and 1973 has a long history of effective conservation management.
Covering 242,813 ha in area, it is large enough to survive as a natural area and to maintain natural values.
It includes 4 proclaimed Wilderness areas almost 50% of the Park, while largely unaffected by human development, the property remains vulnerable to external land uses including agriculture, plantation forestry and ecotourism, although agreements between Ezemvelo KZN Wildlife and local stakeholders have been implemented to manage these threats.
Invasive species and fire also threaten the integrity of the site, along with land claims in certain areas, infrastructural developments, soil erosion caused by fire and tourist impacts on vulnerable alpine trails, and poaching. The lack of formal protection of the mountain ecosystem over the border in Lesotho exacerbates these threats.
Boundary issues highlighted at time of inscription included the gap belonging to the amaNgwane and amaZizi Traditional Council between the northern and much larger southern section of the Park.
While planning mechanisms restrict development above the 1,650m contour to maintain ecological integrity, it was recommended that a cooperative agreement between the amaNgwane and amaZizi Traditional Council and Ezemvelo KZN Wildlife be envisaged. Extending conservation areas by agreements with privately-owned land along the escarpment to the south of the property was also recommended.
Finally an important step to strengthening integrity has been the development of the Drakensberg Maloti Transfrontier Conservation and Development Area, which has recognised the importance of a Transboundary Peace Park linking the Sehlabathebe National Park (and eventually the contiguous Sehlabathebe and Mokhotlong Range Management Areas) in Lesotho with uKhahlamba Drakensberg Park.
Project Coordinating Committees in both KwaZulu-Natal and Lesotho are cooperating in a planning process.
The extension of the area to include SNP (6,500 ha) has been protected since 1970 as a wildlife sanctuary and a national park, and gazetted in 2001 to enhance protection of the biodiversity and scenic qualities of the property.
This area, added to the UDP World Heritage Site is sufficient to protect the biodiversity and cultural values of the area.
The property contains the main corpus of rock art related to the San in this area. A comparatively high concentration of rock art sites seems present in the western buffer zone in Lesotho and future surveys of these should be undertaking with the surveys for rock art in the Maloti-Drakensberg Park to judge their potential contribution to the Outstanding Universal Value. Although the area has changed relatively little since the caves were inhabited, management practices, the removal of trees (which formerly sheltered the paintings) and the smoke from burning grass both have the capacity to impact adversely on the fragile images of the rock shelters, as does unregulated public access.
Management of the Park is guided by an Integrated Management Plan with subsidiary plans, and is undertaken in accordance with the World Heritage Convention Act, 1999 (South Africa, Act No. 49 of 1999); National Environmental Management: Protected Areas Act, 2003 (South Africa, Act 57 of 2003); National Environmental Management Biodiversity Act, 2004 (South Africa, Act No 10 of 2004); KwaZulu-Natal Nature Conservation Management Amendment Act (South Africa, No 5 of 1999); the Game Preservation Proclamation (Lesotho, No. 55 of 1951); the Historical Monuments, Relics, Fauna and Flora Act (Lesotho, No. 41 of 1967); the National Heritage Act 2011 and Environment Act (Lesotho, No. 10 of 2008); World Heritage Convention Operational Guidelines; Environment policies in Lesotho and Ezemvelo KZN Wildlife policies.
In terms of these legislation, all development within or outside the property is subjected to an Environmental Impact Assessment and Heritage Impact Assessments respectively, which consider the Outstanding Universal Value of the property. In addition all World Heritage Sites are recognized as protected areas, meaning that mining or prospecting will be completely prohibited from taking place within the property or the proclaimed buffer zone. Furthermore, any unsuitable development with a potential impact on the property will not be permitted by the South African Minister of Water and Environmental Affairs and the Lesotho Minister of Environment and Culture who are responsible for the implementation of the World Heritage Convention.
~
WATER
The industrial heart of South Africa is Gauteng Province, where the combined Johannesburg and Soweto cities form Africa's most populous urban center. Like all such large cities, one of its critical needs is water. Rapid growth of the cities has outstripped the ability of the nearby Vaal River to supply the area's needs. Since the 1950s, South Africa had considered the possibilities of diverting water from the Orange River basin in Lesotho (where the river is known as the Senqu) into the Vaal River. At the same time, Lesotho had been importing electricity from South Africa. During the 1980s, a scheme to fulfill both needs was formally created, named the Lesotho Highlands Water Project. The first stage of the project installed the Katse Dam across the Malibamatso River and a 45-kilometer-long tunnel to Muela, where hydroelectricity would be generated. When it was completed in May 1997, the 185-meter-tall Katse Dam was the largest in Africa. Good rains filled the reservoir to capacity in early 1998. The reservoir has stayed near full capacity since. Water flows to Muela and then through another tunnel to Clarens in South Africa, where it feeds into the Axel River, a tributary of the Vaal.
This photo-like image pair shows the area around the reservoir on March 2, 2001, observed by the Landsat 7 Enhanced Thematic Mapper Plus instrument, and the pre-construction scene observed by the Landsat 5 Thematic Mapper instrument on March 9, 1989. In the more recent image, the valley of the Malibamatso River is flooded, with the dam at around 95 percent of its full capacity. Most of the 38.5-square-kilometer surface of the lake is shown here. (All of it can be seen in the large image.) At just shy of two billion cubic meters capacity, it is similar in water volume to the huge Vaal Reservoir into which it now feeds, but with deep valleys filled with water, it has about 10 percent of the surface area of the Vaal water supply and thus suffers much less loss to water evaporation than its downstream cousin. As it filled, the weight of the water in the reservoir was sufficient to trigger a series of minor seismic events. The depth of the valleys can be partially appreciated by seeing them in the 1989 image before the reservoir filled.
The Lesotho Highlands Water Project has not been without its controversies. The project brought a steady income from water sales, provided electricity in surplus of the country's needs, and led to construction of roads, bridges, and other needed infrastructure in Lesotho. South Africa has benefited from the supply of much-needed water for Gauteng Province's growing population and industry. However, the flooding of the valleys displaced residents and inundated agricultural land, and although people were compensated, such transitions can nevertheless be socially disruptive. Considerable attention was paid in the construction to keeping water quality high not only for human consumption, but also to provide clean, unsilted water for wildlife downstream of the project. Still, the social and environmental impacts of the dam remain in question, even as the later phases of the water project continue. Eventually the entire project will include four major dams and a series of smaller water impoundments. It is projected to be completed in 2020.
~
MINERAAL ONTPLOFFINGS EN EKSPLORASIES
Oor die algemeen word ryk maatskappye eerstens toegelaat om ons burgers (Suid-Afrika en selfs omliggende buurlande) se  kosbare water te kom bedreig met hul hidroliese breking (fracking) of ander myneksplorasies.   Hulle trek weg met enorme spoed en die meeste laat 'n spoor van besoedeling en verwoesting agter, en min of geen rehabilitasie word gedoen.
Ander lande is betrokke hierby.    Hoekom breek hul nie 'n slag hul eie lande op en los Suid-Afrika uit nie.  Of hoekom word dit dan nie volgens wetgewing uitgevoer nie.   Daar word daagliks teen die wetsgehoorsame burgers opgetree, maar nie teen mynmaatskappye nie – waarom nie?
Wat gebeur as ons geen water oor het nie, want hierdie gebied is ons grootste punt van waterkomme en triljoene is al sedert 1986 aan die Hoogland waterskemas ook bestee – uit die ou bedeling was daar baie begroot.
Is onseker hoeveel spandeer is na 1994 aan die Hooglandwaterskema wat in Lesotho is.  Ons het jaarliks bygedra tot hierdie waterprojek en ontwikkeling, vir al ons boere, nie net reg langs die Oranje rivier nie, maar dit is een van die hoogste damme in Afrika maar ook is miljoene spandeer om die burgers in Lesotho van water en paaie/infrastruktuur te voorsien.  Selfs in en rondom die Tugela rivier, wat heelwat bewoners in Kwazulu-Natal van water voorsien, is triljoene al spandeer aan opgaardamme en infrastruktuur.
Wat ook beslis sterk na vore kom en wat soos 'n seer oog uitsteek.  Daar is al vir hoeveel jaar eksplorasie toetse regdeur die land gedoen, dat daar gewag word om waterbronne sterk te vestig, met belastinggeld en bydraes, dan spring die minerale maatskappye hier op die bleastingbetaler se rug om die waterbronne dan uit te put vir eie gewin en gebruik.   Dit is styd dat belastingbetalers en burgers hul rug styf maak – mynmaatskappye misbruik ons water en weinig word teruggeploeg in die land se klein hoeveelhede water.
Water word nie BESOEDELD aan die mynmaatskappye voorsien nie, dit is en bly kosbare drinkwater.    Dit moenie as 'n besoedelde nalatenskap agtergelaat word vir ons om weer te herstel nie.  Dit geld vir enige mynmaatskappy – selfs die wat so lief is om steenkool ook te myn.   Dis onooglik en omgewing word so verniel dat erosie ons totaal en al vernietig.  Met erosie en besoedeling kan nooit weer geboer word op daardie grondgebiede nie, veral nie as dit nie gerehabiliteer is nie.

Let op hoeveel mynmaatskappye in Suid-Afrika is en hoeveel het nooit na 1994 ooit enige rehabilitasie werk gedoen nie.  Dan is dit ons belastingbetalers wat sit met die besoedeling en weer van vooraf moet stry om skoon drinkwater te kry.  Hoeveel mynmaatskappye gaan nou eenvoudig bo-oor ons loop en eenvoudig ons watertoevoere afsny?  En dan is hulle nogal buitelandse mynmaatskappye wat die huidige regering hier toelaat.    Ons water en grond gebruik – terwyl die regering heeldag net kerm oor blankes se grond om te hervorm (vir minerale).
~
DIE HOOGLAND IN LESOTHO
Hoogland in Lesotho – Waterskema
Daar is viere lande wat voordeel trek uit die water uit die Hoogland waterskema projek:   Suid-Afrika, Namibië, Botswana en natuurlik Lesotho self.    Is nie seker of Botswana en Namibië bydrae tot die skema nie.
(Indien Mosambiek en Zimbabwe bygevoeg word, sal dit basies al die SADC lande wees).
The small land-locked kingdom's mountainous terrain serves as an efficient catchment area, trapping water from the Senqu River, Vaal and Orange rivers, among other water streams.
Kasane recently hosted ministers responsible for water supply from the four countries at a gathering to approve the start of a feasibility study that will influence the design, engineering and construction of one of Africa's largest dams in Lesotho.  Included in the project is a pipeline running from the Kingdom of Lesotho through South Africa into Botswana.
The four countries agreed to source funds from the African Development Bank (AfDB) for the study.   
According to the Minister of Land Management, Water and Sanitation Services Prince Maele, the feasibility study will determine the dam size, while considering the environmental assessment and the quantity of water to supplied.
~
South Africa has a number of IBTs operating for more than 20 years. Case study research was conducted into one such IBT, the Usutu-Vaal Government Water Scheme, which transfers water from the Heyshope Dam to the upper Vaal River basin. Actual water transfers were compared to those originally predicted at the appraisal stage and were found to be considerably less and more variable than initially envisaged. As the cost of pumping water often constitutes substantial life-cycle cost components, this raised the question as to whether the approach used at the time, named here the Incremental Approach, adequately captured the cost of transferring the water.
Views of Different schemes – Waterskemas
The Lesotho Highlands Water Project (LHWP) is a multi-phased project to provide water to the Gauteng region of South Africa and to generate hydro-electricity for Lesotho. It was established by the 1986 Treaty signed by the governments of the Kingdom of Lesotho and the Republic of South Africa. The project entails harnessing the waters of the Senqu/Orange River in the Lesotho highlands through the construction of a series of dams for the mutual benefit of the two countries. Phase I of the project was completed in 2003 and inaugurated in 2004, and Phase II is currently underway.
Hoogland waterprojek – project
~
GEORGE SOROS AND OIL/GAS
22 February 2018 – Richard Pollock and Daily Calle
George Soros made big investment bets on fossil fuel companies in the fourth quarter of 2017 even though he claims these firms contribute to climate change, according to a Daily Caller News Foundation investigation.
In the last quarter of 2017, Soros Fund Management reported investments in eleven new fossil fuel corporations totalling nearly $160 million, according to his company's December 31, 2017, filing before the Securities and Exchange Commission reviewed by TheDCNF.   The billionaire's most recent political efforts to warn about climate change was his underwriting of the organizations behind the April 29, 2017, "People's Climate March" that marked the 100th day of President Donald Trump's administration. Soros donated $36 million to 18 of the march's 55 steering committee organizations between 2000 to 2014, according to the Media Research Center.   He also agreed to give former Vice President Al Gore's Alliance for Climate Protection $10 million over a three-year period.
Further, Soros founded and operates his own climate change advocacy group called the Climate Policy Initiative. He pledged to give at least $100 million in 2009 to the institute over ten years and in 2015 he gave $26.5 million to the group, according to his latest filing with the Internal Revenue Service.    The billionaire's newest fossil fuel investment was $87 million in Alerian, MLP, a fund that solely invests in "energy infrastructure" consisting of pipelines, storage tanks and processing plants for crude oil and natural gas. He purchased eight million shares of the company.  His company's second biggest energy investment was Halliburton, one of the world's largest oil exploration and drilling companies. His firm purchased 842,000 shares valued at $30 million.
Soros not only invested in oil and natural gas companies, but also into coal. Soros tried to position himself as an enemy of coal,  stating at the 2009 Copenhagen climate change summit, "There is no magic bullet for climate change, but there is a lethal bullet: coal."   He also invested $4.7 million into Peabody Energy Corporation, the largest "pure play coal company" in the United States, according to the company's website. Peabody sold 188 million tons of coal to electric utilities in 2016. The company operates 23 surface and underground mines in the United States and in Australia.