Nauru Republiek – is 'n eiland en  nie groot nie.    Baron Waqa was destyds as president ingehuldig (Junie 2013).     Daar is sover geen hoofstad nie.   Dis die derde kleinste landjie waarvan kennis gedra word.  Sien die video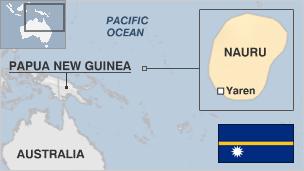 Video:
Nauru Repubiek
.
Foto's van Nauru
Baron Waqa was sworn in as president in June 2013 after parliament chose him as its leader. He won a second term in July 2016.  In 2015 New Zealand suspended foreign aid to Nauru saying it could no longer support the island's legal system, which had been used to suspend opposition leaders and enact laws clamping down on basic freedoms.

Named Pleasant Island by its first European visitors, the former British colony of Nauru is the world's smallest republic.   In recent years it has often been in the headlines over controversies surrounding the Australian-run asylum-seeker detention camp, with allegations of human rights abuses and overcrowding.

The detention camp is a major employer and source of income on the island. Since 2013 Australia has sent all asylum-seekers arriving by boat into detention on Nauru and Papua New Guinea, and denied them resettlement in Australia despite an outcry from rights groups.  Nauru is a speck in the Pacific about 3,000 km (1,800 miles) northeast of Australia with 10,000 citizens and little economy since the depletion of its rich phosphate mines in the 1980s.