South African plane carrying 67 people crashes, catches fire at Goma Airport in DRC.   No one was injured during the incident and circumstances surrounding the crash were being investigated, said Dlamini.    The aircraft was transporting 59 passengers and eight crew members from the UN mission when its left engine caught fire upon landing, said Mathias Gillman, acting spokesperson for the UN MONUSCO mission.
*
Various articles confirmed that a C-130BZ Hercules transport aircraft of the South African Air Force (SAAF) has crash landed at Goma airport in the eastern Democratic Republic of Congo.
"MONUSCO sent a rescue team that brought the fire under control and everyone was safely evacuated," Gillman told The Associated Press.
Images posted on Twitter show one of the port engines on fire, with the blaze subsequently put out by firefighters. Two sources at the airport, speaking on condition of anonymity, told Reuters there did not appear to be major damage to the aircraft.
The aircraft was returning from the eastern Congo city of Beni, where it was providing logistical support to the South African contingent deployed in the region.
African Defence Review Director Darren Olivier said the incident is a "big blow" for the SAAF. "Even if this C-130BZ is repairable, I doubt they will be able to afford to repair it on their meagre budget, especially with the difficulty of replacing an outer wing section in an austere location like Goma."
"The C-130BZ that crashed at Goma is confirmed as serial 403. The left wing is extensively damaged, and there was a fire on engine 1."
The Hercules was built in 1963.
*
*
South Africa's military plane that is in DRC as part of a UN peacekeeping mission has crashed with 67 people onboard as it was making its way back to Goma after delivering supplies in Ben.
SANDF spokesperson, Siphiwe Dlamini confirmed the incident with Reuters.
"The South African National Defence Force confirms that one of its aircraft crash-landed in the DRC this afternoon. For now I can confirm that none of those on board were injured nor did we suffer an fatalities," she said.
The plane that had 67 people including eight crew members and 59 passengers crashed and caught fire during landing on Thursday at Goma airport in the eastern Democratic Republic of the Congo.
There were no fatalities reported.
*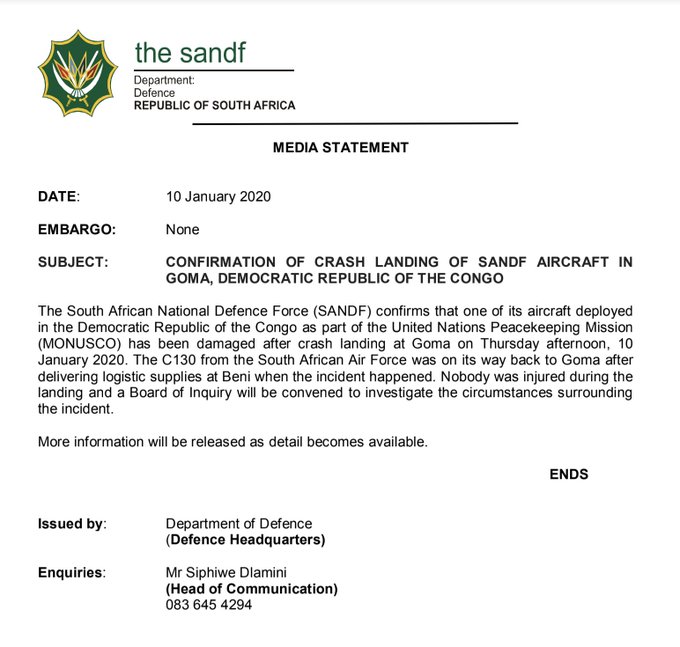 C130
*
Cuba – In support of Operation Thusano, whereby Cuban armed forces maintain and repair the SANDF's operational vehicle fleet (that was previously manufactured and maintained by South Africans).
*
*