Ysberge of losstukke ys, wat afbreek en daarna smelt as dit seewater bereik wat warmer is as die ys self, is nie net vandag al aan die gang nie, dit gebeur al vir dekades en eeue.   Verseker toe die Titanic so vinnig gesink het, was daar ondersoeke daarna gedoen.  Die see neem heelwat skepe wat nie vaardig genoeg is nie, nes soos voertuie en lugvaartuie wat nie vaardig is nie.   Die Titanic is en was waarskynlik nie die eerste en ook nie die laaste botsings met los ysberge nie.  Heelwat skepe beweeg te naby aan kuslyne wat hul op rotse laat beland.
*
Enige tegnologiese ontwikkelings het risiko's aan verbonde.  Rekenaars het ook hul eie risiko's en niks is 100% nie.
Was daar destyds genoeg inligting bekend oor Ysberge en die gevare wat dit vir skepe inhou met so 'n groot vrag aan boord?   Indien die Titanic se opgeleide personeel geweet het van die gevare van Ysberge en risiko's, moes hul ekstra voorsorgmaatreëls in plek gehad het, soos genoeg ontsnapbote of meer reddingsbaadjies vir elkeen aan boord.   Hoeveel blootstelling was daar destyds gedoen met noodoefeninge in plek sou daar 'n probleem ontstaan?
Ten spyte van vinnige optrede op die brug om die skip te vertraag, en na bakboord te draai, asook die sluiting van die waterdigte deure, het die stadige reaksie van 'n groot vaartuig beteken dat die ysberg steeds die skip agter die boeg getref het. Sowat 100 m van haar romp onder die waterlyn, het gebuig, sodat water in die skip oor verskeie kompartemente ingestroom het. In net meer as twee en 'n half uur het sy en hele vrag gesink, met die verlies van 1514 lewens.
Die weersomstandighede en ystoestande, gekombineer rondom die ysberggevaar op daardie noodlottige dag te verhoog, het dinge vererger .   Die hoëdruk het die middelbreedtegraad, sentrale Atlantiese Oseaan vir etlike dae oorheers (Howells, 1992) en teen die tyd van die botsing het 'n rif wat twee hoogdruksentrums oor Nova Scotia en die suide van Ierland verbind het oor die hele Atlantiese Oseaan gestrek.
Daar was ook 'n aantal verslae van uitgebreide see-ysvelde en ysberge wat die Titanic vroeër op die dag van die botsing bereik het (Howells, 1992).    Destyds is aangeteken dat die maande,  April en Mei die hoogtepunt van die ysberg gevaarseisoen in die westelike Noord-Atlantiese Oseaan is, deels as gevolg van die vrystelling van ysberge wat voorheen vasgehou is in die pakys van ysgebergtes.
In 1912 is die piekgetal ysberge vir die jaar in April aangeteken, terwyl dit gewoonlik in Mei plaasvind, en daar was byna twee en 'n half keer soveel ysberge as in 'n gemiddelde jaar.
*
Opvallend dat daar juis in 1912 'n aansienlik groter ysbergvloed van Newfoundland as normaal gehad het, en dit is geneem om te impliseer dat so 'n vloed moontlik 'n ongewone oorsaak moes hê.    Olson et al. (2012) het die eeufees-herdenking gebruik om 'n nuwe teorie voor te stel dat meer ysberge as normaalweg daardie jaar uit Groenland uitgekalf (of gesmelt) het.    Dit word gereken as gevolg van die spanning wat vroeër in die jaar op kalwende gletserfronte veroorsaak is deur 'n verbeterde getyreeks rondom Groenland, as gevolg van die seldsame voorkoms van die uiterste maanperigeum op 4 Januarie 1912.
Die natuur het eenvoudig 'n asemrowende skoonheid om te bewonder – deel van Kanada: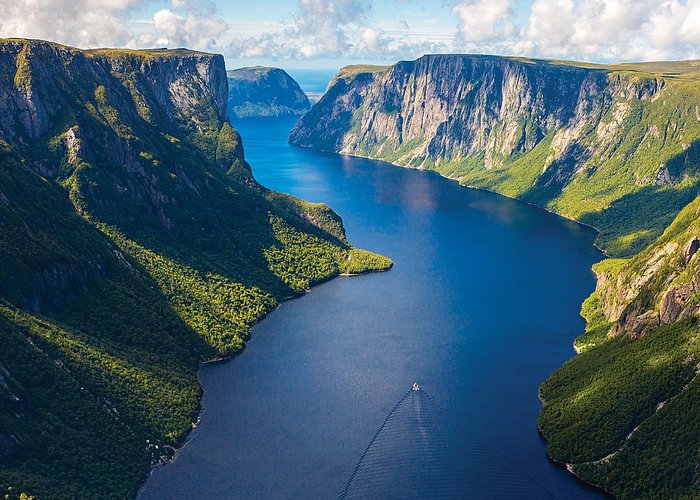 *
Artile of 2014
At 2340h local time (0310 gmt) on the cold, moonless, night of 14 April 1912, near 41°47΄N, 49°55΄W (Marine Accident Investigation Branch, 1992), the crow's nest lookouts on board RMS Titanic sighted a large iceberg only 500m ahead.
Despite quick action on the bridge to slow the ship, and turn to port, as well as the closing of the water-tight doors, the slow response of a large vessel meant that the iceberg still struck the ship aft of the bows. Some 100m of her hull below the waterline buckled, allowing water to flood into the ship across several compartments.  In little more than two and a half hours she had sunk, with the loss of 1514 lives.
The weather, ice conditions and time of year combined to increase the iceberg hazard on that fateful day. High pressure had dominated the mid-latitude, central Atlantic for several days (Howells, 1992) and by the time of the collision a ridge linking two high-pressure centres over Nova Scotia and the south of Ireland extended across the entire Atlantic .
A number of reports of extensive sea-ice fields and icebergs ahead had reached the Titanic earlier on the day of the collision (Howells, 1992).   April and May are the peak of the iceberg hazard season in the western North Atlantic , partly because of the release of icebergs previously held fast within the pack ice.  In 1912, the peak number of icebergs for the year was recorded in April, whereas normally this occurs in May, and there were nearly two and a half times as many icebergs as in an average year.
Noted that 1912 had a significantly greater iceberg flux off Newfoundland than normal, and this has been taken to imply that such a flux must have an unusual cause.  Olson et al. (2012) used the centennial anniversary to propose a new theory that more icebergs than normal were calved from Greenland that year because of the stress induced on calving glacier fronts by an enhanced tidal range around Greenland earlier in the year, due to the rare occurrence of the extreme lunar perigee on 4 January 1912.
https://rmets.onlinelibrary.wiley.com/doi/full/10.1002/wea.2238
*
The International Ice Patrol at work circa 1950
Ten spyte van verbeterde tegnologie, gebeur dit steeds dat skepe teen ysberge bots en selfs sink.
It still happens.
There are no globally-collated figures for iceberg strikes, but they happen every year.
Infamous iceberg encounters
RMS Titanic (1912) – Dubbed "unsinkable", the luxury cruise liner's collision remains one of history's most famous tragedies
MS Explorer (2007) – After hitting an iceberg off the coast of Antarctica, this "modern Titanic" raised concerns about Antarctic tourism
Hans Hedtoft (1959) – The "little Titanic", a Danish passenger and cargo ship, stuck an iceberg and sank, killing all 95 people on board
SS Islander (1901) – Travelling along the Alaskan coast, the steamer collided with an iceberg and sank 15 minutes later, claiming 40 lives
*
For the northern hemisphere, from 1980 to 2005, there were 57 incidents involving icebergs giving a rate of 2.3 per year, according to Brian Hill, of the Institute for Ocean Technology, who maintains a database of more than 680 iceberg-ship incidents.
All of these advances could not prevent MS Explorer's encounter with an iceberg on the evening of 23 November 2007. The 154 passengers had to abandon ship, floating on life rafts for several hours in icy waters. Everyone survived, but the incident was dubbed the "modern Titanic" in the New York Times.
Less than two months later another Antarctic cruise ship, the MS Fram, lost engine power and struck a glacier. The impact smashed a lifeboat, but the 300 people on board escaped unharmed.
Only last year an iceberg tore a hole in the hull of a Russian fishing boat cruising around the Antarctic. The 32-person crew threw cargo overboard to lighten the ship while waiting nearly two weeks for rescue.
*
On a sunny day you can view these 10,000-year-old glacial giants from many points along the northern and eastern coasts of Newfoundland and Labrador — one of the best places in the world to see icebergs.
*
*
Ysberge was destyds al drywende, net soos dit vandag daar is.  Soms kom die opinie  voor of die Titanic eerder daarop uit was om wel te bots om te sink (eie gevolgrekkings) as of weg te draai.    Die Titanic het nie spoed verminder nie.    Die maan speel verseker 'n groot rol in getye maar het niks te make met die spoed van skepe nie.

*
The Titanic failed to slow down, even after having received several wireless messages warning of ice ahead," Olson said. "They went full speed into a region with icebergs—that's really what sank the ship, but the lunar connection may explain how an unusually large number of icebergs got into the path of the Titanic."

https://phys.org/news/2012-03-icebergs-accomplice-moon-titanic.html
*
Dit is en bly deel van Kanada – die tiende provinsie: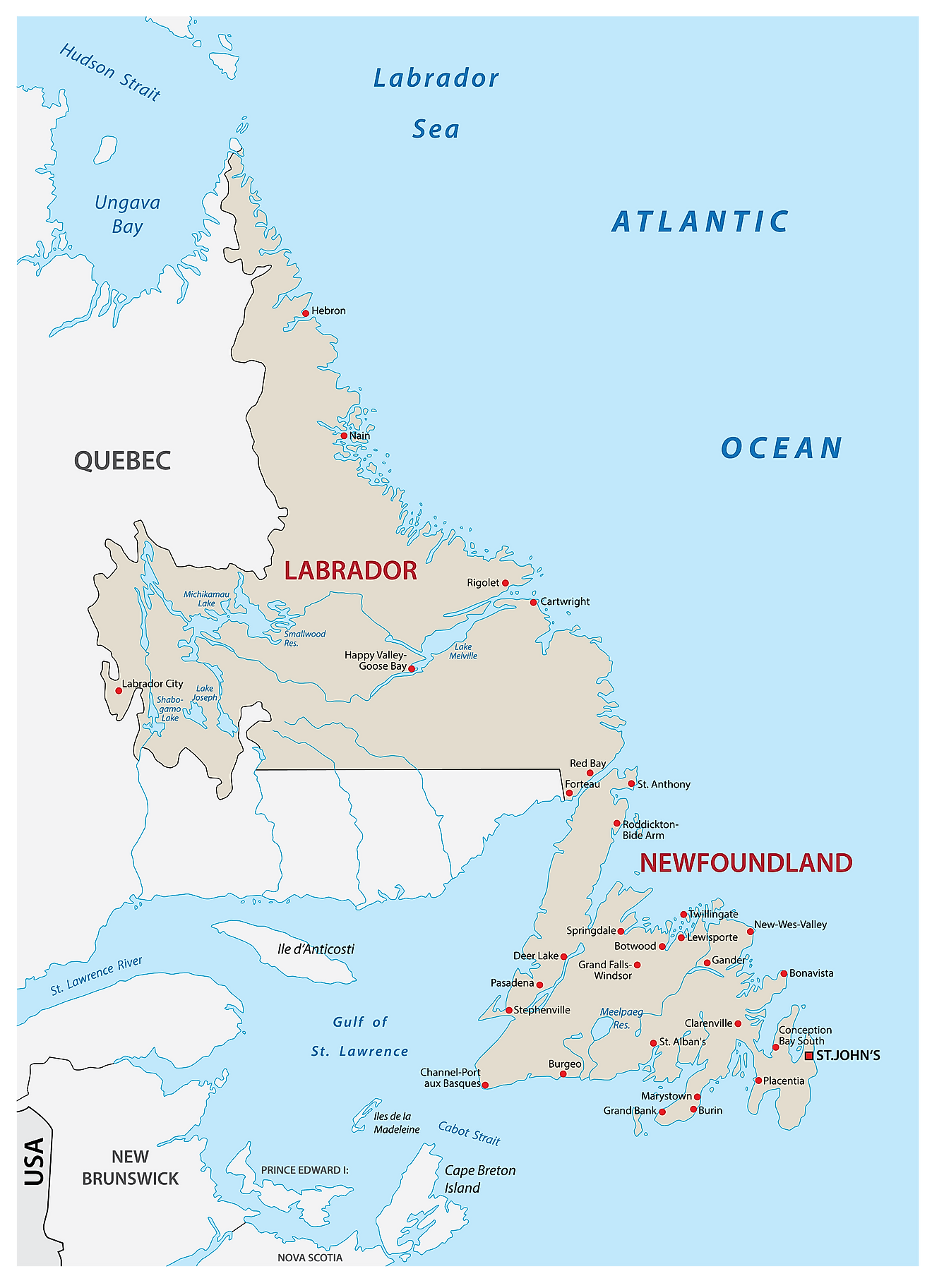 Newfoundland and Labrador, province of Canada composed of the island of Newfoundland and a larger mainland sector, Labrador, to the northwest.
It is the newest of Canada's 10 provinces, having joined the confederation only in 1949; its name was officially changed to Newfoundland and Labrador in 2001.    It is separated from Labrador by the narrow Strait of Belle Isle and from Nova Scotia, to the southwest, by Cabot Strait. The French territory of Saint-Pierre and Miquelon lies off the coast of the Burin Peninsula in southeastern Newfoundland. Labrador is bordered to the north and east by the Labrador Sea (northwestern arm of the Atlantic Ocean) and to the south and west by the province of Quebec.
https://www.britannica.com/place/Newfoundland-and-Labrador
*
David Lonergan 2019
" Drone footage from my Phantom Four Plus , and footage among the icebergs ."