An Ukraine Boeing 737 comes down near Tehran – 176 killed .      Three British citizens were among 176 passengers and crew killed after a plane crashed in Iran, leaving no survivors.   Ukraine's foreign ministry confirmed that everyone aboard the Boeing 737 was killed after it came down shortly after it departed from Imam Khomeini International Airport in the Iranian capital of Tehran.   Condolences to the families and friends.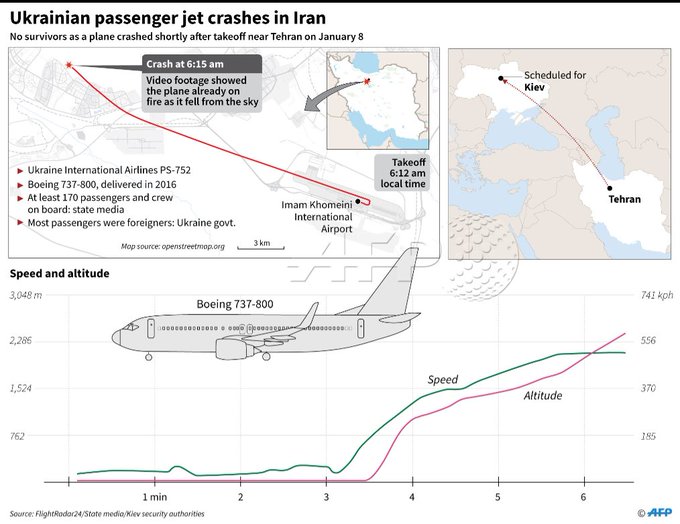 *
https://www.rt.com/news/477693-engine-catching-fire-crash/
*
There were three British people on board, as well as citizens from six other countries, according to the Ukraine's Minister for Foreign Affairs Vadym Prystaiko.   Volodymyr Zelensky, Ukraine's president, said his government was working to understand the causes of the crash. He is cutting short a trip to Oman and returning to Kyiv.

"My sincere condolences to the relatives and friends of all passengers and crew," he said in a statement.

Initially, Ukraine's embassy in Iran said  that engine failure caused the plane to crash and denied that it was terror-related or that a rocket had hit the aircraft.    But it later withdrew this statement, saying that anything was possible, and Mr Zelensky instructed Ukraine's prosecutors to open criminal proceedings over the crash.

A commission is working to clarify the causes of the plane crash.  Any statements regarding the causes of the accident prior to the findings of the commission are not official.

Flight data from the airport showed a Ukrainian 737-800 flown by Ukraine International Airlines took off on Wednesday morning, then stopped sending data about eight minutes later, according to tracking website FlightRadar24.   It is not clear whether the incident is related toIran's missile attacks on US bases in Iraq on Wednesday morning. The Ukraine International Airlines passenger jet that crashed this morning was less than four years old.  

Senator Konstantin Kosachev, the head of the Russian Federation Council Foreign Affairs Committee, wrote on Facebook: "A terrible crash of a Ukrainian airliner in Tehran. It looks like no one survived. Was it a technical malfunction? A mistake of the crew? A terror attack? Only an investigation will show and one must refrain from any rushed theories."   He said the Russian embassy was working to clarify if there were any of its citizens on board.   "I would like to offer sincere condolences to all the families and loved ones of the deceased, whatever their nationality. We share the Ukrainian people's grief."
https://www.telegraph.co.uk/news/2020/01/08/iran-plane-crash-170-passengers-feared-dead-ukraine-boeing-737/
*
*
Images published by the semi-official Iranian agency ISNA allegedly show the moment a Ukrainian plane crashed shortly after take-off in Tehran. The Boeing 737 carrying 176 passengers crashed on Wednesday, killing all on board, officials in Iran said.