'Devastation is an understatement'
The first victim identified is Hayden Marshall-Inman, a tour operator for White Island Tours.    The chairman of White Island Tours Paul Quinn issued a statement this morning:
"Devastation is an understatement. This is a terrible tragedy and our thoughts and prayers are with everyone who has been impacted," Quinn said.    "We acknowledge the considerable efforts from Police and Civil Defence and will continue to do whatever is necessary throughout the rescue operation.   In a press statement just before 7pm, police said "to correct an earlier statement, it is too early to confirm whether there will also be a criminal investigation."  Police confirmed they are investigating the death of individuals on Whakaari/White Island on behalf of the coroner, in parallel with a WorkSafe New Zealand investigation.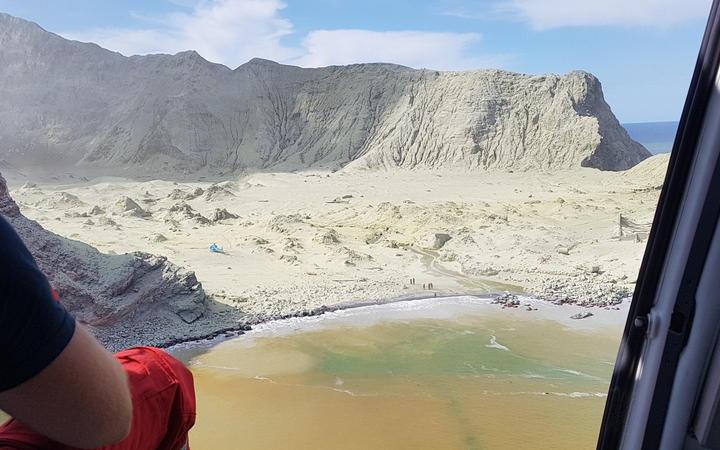 *
*
"Our immediate focus is on supporting our staff, manuhiri and respective whānau, who have been significantly impacted and are showing immense strength and courage."
White Island Tours Limited are currently assisting Police and Civil Defence with the official emergency response.
https://www.nzherald.co.nz/index.cfm?objectid=12292540&ref=twitter
*
WHITE ISLAND VOLCANO ERUPTION:
* Six confirmed dead and eight people are still missing on the island – there are no signs of life
​* There were 47 people in total on Whakaari, 38 of them were from the cruise ship Ovation of the Seas
* Of the 47 people
– 2 are from the UK
– 4 are from Germany
– 24 are from Australia
– 5 are from New Zealand
– 2 are from China
– 1 is from Malaysia
– 9 from the United States
* There are 31 people in hospital. Of them, 25 are now in four regional burns units, while 6 will be transferred to a burns unit asap. Three other people have been treated and discharged
* The age range of the victims is from 13 to 72.
*
Cruise ship passengers affected by the White Island/Whakaari eruption could be entitled to millions of dollars in damages under United States maritime law, a Miami-based lawyer says.
Of the 47 people that were on or near White Island/Whakaari when it erupted on December 9, 38 were from the ocean liner Ovation of the Seas operated by global cruise ship company Royal Caribbean.
The eruption killed 16 people, with two people still missing, and left nearly 29 people injured, many of whom remain in critical condition.
Police said of the 47 people on the island when it erupted 24 were from Australia, two from China, four from Germany, one from Malaysia, five from New Zealand, two from the UK and nine from the US.
Operation will continue
https://www.stuff.co.nz/business/industries/118198421/whakaariwhite-island-eruption-royal-caribbean-exceedingly-reckless-sending-passengers
*
VIDEOS
Meanwhile incredible new footage has emerged showing seemingly idyllic conditions as sightseers wandered around the White Island volcano before Monday's fatal eruption. The video taken buy one of the tourists – Allessandro Kauffman – tracks the first tour group happily hiking to the crater and back, taking in the sights and snapping photos oblivious to the imminent danger. They were only just back on their White Island tour boat in the bay when Whakaari unleashed.
*
NZ Herald were in the air moments after the dramatic eruption of White Island and captured stunning footage of NZ's most active volcano.
*
10 December 2019 – Six people are dead and more are missing after a volcano off the coast of New Zealand erupted. NBC News' Emmanuelle Saliba looks at images and videos taken before and after the eruption.
*
Helicopter pilot Tom Storey was building a house when he got the call that Whakaari / White Island was erupting.